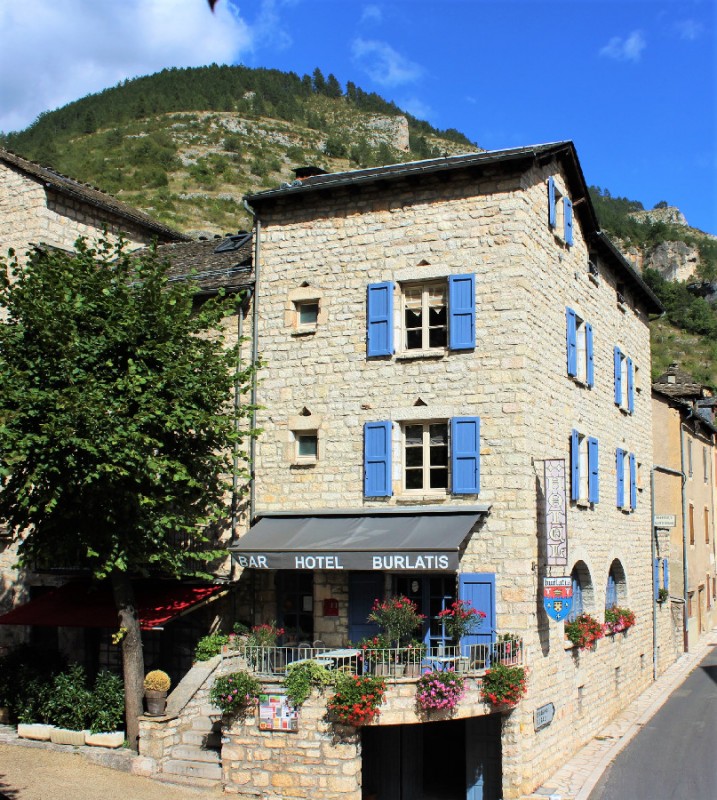 Hôtel Burlatis à Sainte-Énimie (Lozère)
Annual closure from October 10, 2021 to April 1, 2022
Welcome to your home from home!
A warm welcome awaits you at Le Burlatis, a two-star hotel nestling in the heart of the Gorges du Tarn, in the historic village of Sainte-Énimie.
Our classic stone building, which was recently renovated, combines traditional character and modern conveniences in all its nine guestrooms. And it provides an ideal base for exploring Gorges, Causses and Cévennes.
During your stay, you can relax on either of our two patios, order around the clock from our blackboards of regional specialities and enjoy our selection of wines by the glass.
We hope to see you soon.
A little history… The hotel's name is directly linked to the history of the village… Sainte-Énimie owes its current name to a princess of royal blood, the daughter of Chlothar II and sister of Dagobert I.
Énimie was miraculously cured of leprosy by bathing in the spring waters of Burle. In reference to the spring, the village was known as "Burlatis" before it was renamed after its patron saint.